Trusted Resources: People & Places
Healthcare providers, researchers, and advocates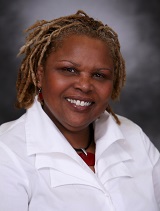 Iris Buchanan-Perry, MD, MSc, FAAP

Healthcare Provider
Associate Professor
Morehouse School of Medicine
720 Westview Drive
Atlanta, Georgia, United States


Dr. Buchanan serves as a Clinical Instructor in patients with hemoglobinopathies. Dr Buchanan has been involved in clinical research and care of patients with Sickle Cell Disease locally and nationally. Experience in national clinical trials includes Props I, Pre-operative transfusion study and STOP. She has recently submitted a proposal for a national collaboration in the modulating effect of various opioids on the development of the acute chest syndrome in patients with sickle cell disease. Dr. Buchanan has been a member of the NIH Sickle Cell Disease advisory board and is presently a board member of the Sickle Cell Disease Association of America (SCDAA) and the Sickle Cell Foundation of Georgia. Recent training includes a master's degree in epidemiology. Dr. Buchanan is the Co-Director of the Division of Pediatric Research as well as Director of Research for the MSM pediatric residents, which involves in the training of research principles and study design.