Trusted Resources: People & Places
Healthcare providers, researchers, and advocates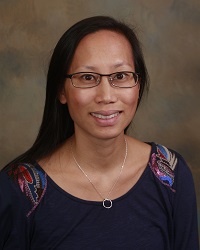 Jennifer Yu, MD

Healthcare Provider
Clinical Instructor in Pediatrics
Rady Children's Hospital
3020 Children's Way, MC 5035
San Diego, California, United States


Dr. Jennifer Yu is a pediatric hematologist/oncologist at Rady Children's Hospital- San Diego and a clinical instructor in pediatrics at UC San Diego School of Medicine.

She graduated from Robert Wood Johnson Medical School in New Jersey and completed both her pediatric residency and pediatric hematology/oncology fellowship at UC San Diego. In addition to teaching medical students, residents and fellows on the wards and in the clinic, Dr. Yu is on the resident clinical competency committee.

Dr. Yu's clinical interests include hemoglobinopathies, such as thalassemia, bone marrow failure, bleeding and clotting disorders, and malignant hematology. Her translational research project during her fellowship was focused on inflammation in sickle cell disease.

In her free time, Dr. Yu enjoys spending time with her family and spending time outdoors.