Trusted Resources: People & Places
Healthcare providers, researchers, and advocates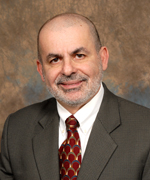 George Atweh, MD

Healthcare Provider
Division Director
Hematology/Oncology Division
Cincinnati Cancer Center
3255 Eden Avenue, ML 0662
Cincinnati, Ohio, United States


George Atweh, MD, is a professor and division director for the hematology/oncology division of the University of Cincinnati (UC) College of Medicine's internal medicine department. He also serves as director of the adult cancer care program housed at University Hospital and associate director of adult medical oncology for the Cincinnati Cancer Consortium.

Prior to joining UC in March 2009, Atweh served in numerous leadership roles at Mt. Sinai Medical Center, including hematology/oncology division chief, interim director of the Tisch Cancer Institute, associate director of the General Clinical Research Center, chair of the appointments and promotions committee and medical director of the cancer clinical trials office.

He completed his medical degree, internship and residency at the American University of Beirut and a hematology/oncology fellowship at Duke University Medical Center. He then did a postdoctoral research fellowship at the Yale University School of Medicine.

An established clinician-scientist, Atweh holds a U.S. patent for globin gene expression vectors, a discovery that has enabled scientists to pursue novel treatments for blood diseases such as sickle cell.