Trusted Resources: People & Places
Healthcare providers, researchers, and advocates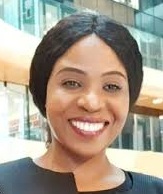 Agnes Nsofwa, RN, MSN, BBA

Community Advocate
Founder
Australian Sickle Cell Advocacy Inc.
P.O Box 62
Craigieburn VIC 3064
Melbourne, Australia


Agnes Nsofwa is the Founder and Executive Director of Australian Sickle Cell Advocacy Inc. (ASCA). She is a registered nurse/data analyst by profession, working in the aged care industry. In 2012, Agnes changed careers from Business to nursing so that she could understand SCD and what their child was going through. Agnes also has a bachelor's degree in business and a diploma in accounting with experiences in the taxation and banking industries.

Her passion to advocate for Sickle Cell Disease (SCD) was as a result of having their youngest child being diagnosed with Sickle Cell Anaemia in 2009. In 2014, Agnes and her husband started the SCD awareness Facebook page to support other people affected by this disease.

Agnes' passion is to support programs and initiatives that enhance the lives of people from disadvantaged backgrounds. She also volunteers her time to different projects which raise funds to support scientific research.