Trusted Resources: People & Places
Healthcare providers, researchers, and advocates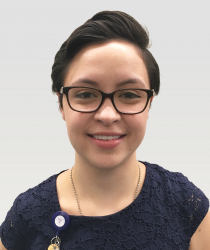 Katie Wu

Patient Support Professional
Clinical Research Coordinator
PolicyLab
Children's Hospital of Philadelphia
2716 South St, 10th Floor
Roberts Center for Pediatric Research
Philadelphia, Pennsylvania, United States


Katie Wu is a Clinical Research Coordinator at Policy Lab at Children's Hospital of Philadelphia (CHOP). She works as a qualitative and quantitative research team member on several program evaluation projects, including an evaluation of a new therapeutic model for improving parental-child attachment for mothers enrolled in substance use treatment programs.

Ms. Wu previously worked as a community health worker for CHOP's adult care and transition team where she worked with patients who were transitioning from pediatric to adult care to build their self-management and self-advocacy skills. She also previously worked on several transition to adulthood research and quality improvement projects. Katie received her bachelor's degree in biology and her Master of Public Health from University of Pennsylvania.