Trusted Resources: People & Places
Healthcare providers, researchers, and advocates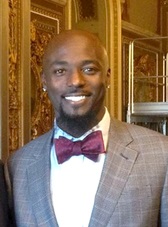 Santonio Holmes

Community Advocate
Founder
III & Long Foundation
Belle Glade, Florida, United States


Santonio Holmes recognized the great need to advocate for SCD when his own son, Santonio "TJ" Holmes III, began to suffer from symptoms of the disease at an early age. A blood test revealed that TJ had inherited the blood disorder, and would need to combat the disease through constant hospital visits and medical treatment. Experiencing first-hand the medical, financial and emotional difficulties that families fighting SCD face, the NFL star built the III & Long Foundation in honor of his son, to educate families and help them navigate these challenges.

Born on March 3, 1984, in Belle Glade, Florida, Santonio Holmes overcame an impoverished upbringing to become a professional football player for the Pittsburgh Steelers, New York Jets and Chicago Bears. In 2008, the gifted wide receiver was named Super Bowl XLIII MVP after making the game-winning touchdown catch. Holmes is the father of four children, Saniya, Savannah, Nicori, and Santonio Holmes III, the inspiration for the III & Long Foundation.