Trusted Resources: People & Places
Healthcare providers, researchers, and advocates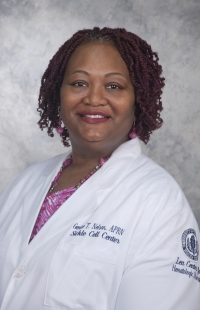 Genice Nelson, DNP, APRN, ANP-BC

Healthcare Provider
Nurse Practitioner
John Dempsey Hospital
UConn Health
263 Farmington Avenue
Farmington, Connecticut, United States


Dr. Genice Nelson is a Nurse Practitioner Specialist in Farmington, Connecticut. She graduated with honors in 2003. She has more than 16 years of diverse experiences, especially in nursing. In conjunction with FENDI, and in recognition of Women's History Month, the Sickle Cell Disease Association of America, Inc. (SCDAA) has honored Genice Nelson, APRN, as one of several women nationally who have made a significant impact in the Sickle Cell Disease community. Genice has gone above and beyond the call of duty in hopes of making a difference in the sickle cell patient community. Genice T. Nelson affiliates with John Dempsey Hospital, UConn Health.