Trusted Resources: People & Places
Healthcare providers, researchers, and advocates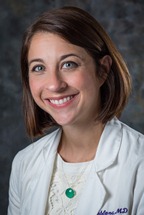 Dana LeBlanc, MD

Healthcare Provider
Assistant Professor
Department of Pediatrics
Children's Hospital
200 Henry Clay Ave
New Orleans, Louisiana, United States


Dr. Dana LeBlanc specializes in pediatric hematology/oncology. She obtained her MD in 2009 from Louisiana State University School of Medicine. She completed her pediatrics residency in 2012 followed by her pediatric hematology/oncology fellowship in 2015, both from LSU Health Sciences Center/Children's Hospital, New Orleans.

Currently, Dr. LeBlanc is working as Assistant Professor of Clinical Pediatrics in the Department of Pediatrics at Children's Hospital. Her clinical interests are sickle cell disease and non-malignant hematology. She also has a research interest in neurobiological mechanism of pain in sickle cell disease.