Trusted Resources: People & Places
Healthcare providers, researchers, and advocates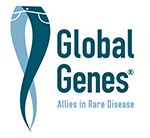 Global Genes / Rare Foundation Alliance
28 Argonaut, Suite 150
Aliso Viejo, California, United States
Email
Phone
Web
Global Genes® is a 501(c)(3) non-profit corporation. Our Leadership Team, Board of Directors and Advisory Teams are committed to programs centered on our core mission of working to eliminate the challenges of rare disease.
Global Genes® is one of the leading rare disease patient advocacy organizations in the world. The non-profit organization promotes the needs of the rare disease community under a unifying symbol of hope – the Blue Denim Genes Ribbon®. What began as a grassroots movement in 2009, with just a few rare disease parent advocates and foundations, has since grown to over 500 global organizations.
Many of our leaders support children, family or friends with rare diseases. They understand the fight on a deep personal level and keep in mind the needs of our community at all times. Global Genes® and our leaders are committed to ensuring that our programs support our worldwide mission of awareness and outreach, education, innovation and technology and research, and collaborative partnerships.
You can get involved with us through educational programs such as rare webinars, rare toolkits, annual events, patient advocacy summits, or through collaborative partnership programs.