Trusted Resources: People & Places
Healthcare providers, researchers, and advocates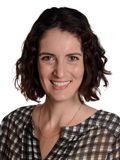 Hannah S. Lichtsinn, MD

Healthcare Provider
General Pediatrician
Hennepin Healthcare
701 Park Avenue
Minneapolis, Minnesota, United States


Hannah S. Lichtsinn is MD in internal medicine/paediatrics and received training in both internal medicine and pediatrics from the University of Minnesota and is affiliated with many clinics and centres in health partners' constorium.

She is particularly passionate about providing a medical home for adolescents and young adults living with sickle cell disease and enjoys working with patients and their families as they make the transition to adulthood.

As an internist and pediatrician she provides preventive care and work with patients to manage acute and chronic conditions. With her combined training in medicine and paediatrics, she has experience and a special interest in working with adolescents and young adults with complex diseases.