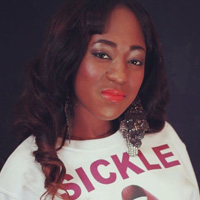 Marie Ojiambo, PharmD

Founder
Sickle Strong Initiative
Horsham, Pennsylvania, United States



Trained at St John's University, College of Pharmacy and Health Sciences in New York, Marie Ojiambo is a Formulation Scientist by profession specializing in pre-clinical Pharmaceutical Research. She is also a Sickle Cell warrior and a global advocate for Sickle Cell Disease Awareness. Diagnosed at the age of 1, she uses her knowledge and personal experiences to raise awareness about the disease, mentor young warriors and consult with Pharma and other CBO's on matters Sickle Cell Disease.

Currently consulting with Pfizer Inc, the Sickle Cell Diseases Associations of America and heading the Consortium's Clinical Trials Initiative work group, Marie uses her experiences of living with the disease to inform research, advocacy and various other stakeholders within the Sickle cell disease space on strategies to advance the healthcare and treatment options available to sickle cell warriors.

Birthed in the year 2013, Marie founded the Sickle Strong Initiative, a Kenyan based NGO whose mandate is to raise awareness around sickle cell disease and advocate for better health care opportunities for patients suffering the Disease in Kenya.

Through SSI, she has been able to host medical training and awareness campaigns for patients suffering the disease in Kenya. Marie is also the proprietor of the annual sickle cell public awareness forum, Ongea (which means to 'speak out!' in Swahili). Ongea is an annual public forum that provides a platform for sickle cell warriors to speak out about their condition, share and interact with each other. It also provides an opportunity for patients to engage with and challenge the Government, Pharma, Insurance companies, the public and other stakeholders on what is being done to improve the health care and environment that patients are exposed to. An estimated 650 plus warriors and their families have benefited from Ongea.

Marie also holds beauty pageant titles of Miss Kenya 2014/15, The People's princess Miss Africa USA 2014/15 and is currently 1st runners up Face of Kenya USA 2016/17, platforms that she has used to actively and vocally raise awareness around the disease.