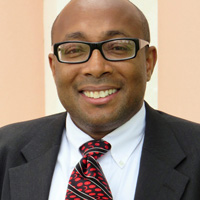 Edward Donnell Ivy, MD, MPH

Director
Community Programs
Association of Black Cardiologists, Inc.
Rockville, Maryland, United States


Edward Donnell Ivy, MD, MPH uses his personal and professional experiences to improve care for individuals with health conditions, including sickle cell disease, by working collaboratively to strengthen the public health infrastructure. 

Currently, Dr. Ivy is the Director for Community Programs with the Association of Black Cardiologists, Inc. (ABC).  Prior to joining the ABC, Dr. Ivy worked with the Maternal and Child Health Bureau (MCHB) of the Health Resources and Services Administration (HRSA) as the Program Director of the Hemoglobinopathies Program, which included the Sickle Cell Disease Treatment Demonstration Program (SCDTDP), the Sickle Cell Disease Newborn Screening Program (SCDNBSP) and the Thalassemia Program. 

Dr. Ivy worked at the National Heart, Lung and Blood Institute (NHLBI) of the National Institutes of Health (NIH), where he was part of the team that developed the NHLBI Sickle Cell Disease Treatment Recommendations of 2014.